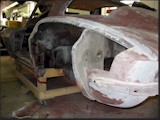 Following this shot, I got under with the nylon flapper again to really clean this area up.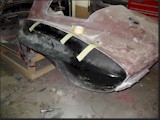 After temporarily removing the raised fiberglass section directly behind where the bumper wings (facing forward) would sit, we test-fitted the new fender.
The fit is quite good, but due to the much wider fender, an extension of the support panel between the inner body and the new fender will be necessary at the rear of the wheelwell.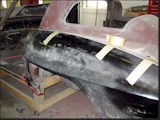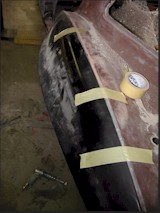 The arrow on the larger photo (click on this photo) represents the original stock fender line.

Can't wait to see a wheel and tire under there....this one, for example. The wrench represents the width of the original 7.75x15" tires.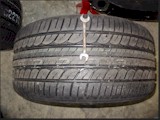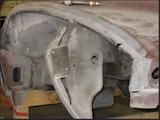 Due to the increased width of the new fenders, the rear splash shields need to be widened. Step one - cut and spread.
View from in front.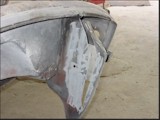 Step two........lay in the fiberglass cloth and resin.
Step three......make it look nice.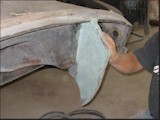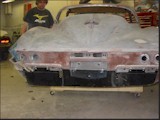 Prior to working on the new passenger side fender, this is a test fit of the new lower rear valance (also referred to as the exhaust panel). Both the front and rear lower valance panels were cracked, years ago, by the pumping action of floor jacks when in a "hurry" to change wheels and tires.

Fender is bonded in place.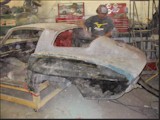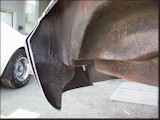 The passenger side rear fender is cut off. Now, I'll get under there with the flapper to clean it all up.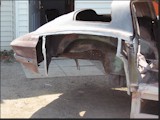 The plan is to cut away everything but the raised fiberglass section (that sits behind the bumpers) and slide the new fender in behind it. (EDIT: Didn't do it that way. The narrow left-over portion would have broken off anyway, so it was cut off. See next chapter for how it was bonded on to the new fender.)
After clean-up, it'll be time to bond another new fender on.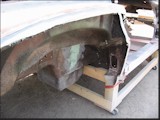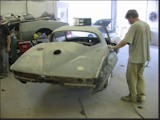 Test fitting the passenger rear fender.
Here's what the driver's rear splash shield area looks like "after" the fender was bonded on. Some minor finishing and this portion is ready for prime.
Wondering what the two holes are? Chevrolet didn't bother changing the panel after dropping the earlier power antenna option for 1967. The motor would mount behind this panel using those holes.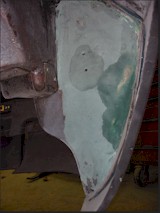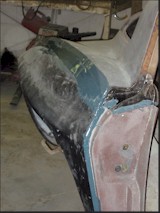 After discussions with people at General Motors, the decision was made to use Dominion Sure Seal Plastic Repair for bonding on of the fenders, lower front valance and front signal light panels. The specific mix is called "Rigidflex Bonder".