The Rebuild of a Legend
"Chapter 31 - Radio"
Click on the following images to see larger photos
Radio
I've decided that some up-to-date technology is called for while waiting
by the side of the highway for the Z-06s and the ZR-1s to catch up.

The original AM/FM mono radio was far too dated to be of any listening value. Electro-Tech was chosen to perform the upgrade to the original case.

The black harness (with red and white RCA plugs) is an Auxiliary Input for MP3 players or other devices.

The radio is now solid state stereo with substantially more output wattage. In spite of retaining all the original knobs, push-buttons and dial, it is possible (through trickery) to adjust left/right balance and front/rear fade without any additional controls.

Electro-Tech also provided special high-output, dual-speakers (shown to the right) that mount in the original centre-dash location on midyear Corvettes. Two additional speakers are located behind the seats.

This is a new replacement speaker for the original AM/FM monaural radio. Since it will not be used, now that the radio has been updated and converted to stereo, it's something else to sell on eBay.
Click on the above images to see larger photos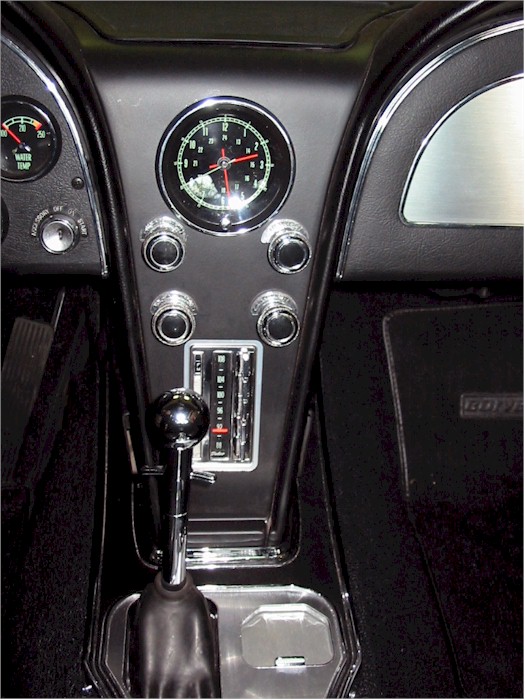 Completely original appearance, in spite of the updated radio
"guts", quartz movement in the clock, and a Richmond 5-speed
transmission under that shifter.


Home to Corvette main page. Table of Contents on main page. Back to previous chapter. Forward to next chapter.