The Rebuild of a Legend
"Chapter 9 - Colours"
Click on the following images to see larger photos

(borrowed photo)

Time to get serious about the paint colour. As noted earlier, this Corvette started life in #986 Silver Pearl (1,952 cars) with the #900 Tuxedo Black stinger on the hood. Sometime in late 1968 or early 1969, I re-painted it #983 Goodwood Green (4,293 cars....oops, one more now) with a #972 Ermine White stinger.

The interior is still the original black vinyl seats, door panels and dash.
New carpets and headliner will be purchased to match the original black.


(borrowed photo)

So where to go with this car? Yes, black has been seriously considered for some time now......


(borrowed photo)

.......... but as beautiful as black cars are, many folks have predicted that I'll be sorry. Swirl marks, constant dirty appearance, etc.; but the argument that really held sway with me was provided by my painter. All those beautiful curves and shadows on the new wide-body panels will disappear into a black paint job!
So...................

Click on the above images to see larger photos

Bright Red it will be.....not Rally Red....not Viper Red.

Bright Red!


Here's a look at the photo, of another car, that sealed my fate.
This very rare, 12-mile, yes 12-mile, 1967 L-88 Corvette
sold (at auction) for $615,000.00 in the summer of 2003.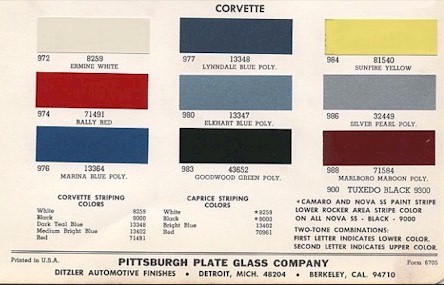 Home to Corvette main page. Table of Contents on main page. Back to previous chapter. Forward to next chapter.